Leaders are busy people; your time is scarce. Investment in coaching is only useful when there is a good return on investment.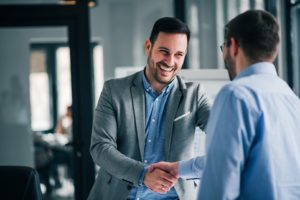 Stakeholder Centered Coaching delivers measurable results. 97% of the 11.000+ leiders that have gone through this coachingproces, have measurably improved their leadership effectiveness.
As a successful leader, you, like most top leaders, probably have more interest in how to apply effective leadership consistently, than having to learn even more about leadership.
Marshall Goldsmith's Stakeholder Centered Coaching process quickly identifies tipping point behavior and uses a clear process that allows leadership growth to be embedded in daily interactions at work.
As Marshall says about this process: It's simple, but not easy. You get a lot from us, and at the same time we expect something from you once you want to start this process of Stakeholder Centered Coaching. You can read this here below.
Like to discuss further or ready for action? Feel free to schedule a call straight into the agenda of Sandra Geelink.
---
WHAT DO WE OFFER?
TIME-EFFICIENT PROCESS
Our process helps you to grow in leadership in 9-12 months time. In clear phases and steps, largely integrated into your day-to-day work.

GROWING TOGETHER
Growing even further as a successful leader is a serious job. We'll do that job together. In this process, we share all the knowledge of Dr. Marshall Goldsmith that can help you with this. Together we make sure that you develop for the long term.
VISIBLE GROWTH
The SCC approach ensures that your leadership growth is already noticed and recognized during your coaching, by the people who matter most: your stakeholders.
---
WHAT DO WE EXPECT FROM YOU?

COURAGE
Leadership and growth require a lot of courage. Having courage is about YOU. Having the courage to get out of your comfort zone. To be vulnerable. To try new things and to do whatever it takes to grow. Such as daring to engage stakeholders and ask them for their feed-forward suggestions.
HUMILITY
In order to be able to take the suggestions of your stakeholders seriously, you have to appeal to your humility. Recognize that you may not know everything best. That you can still grow. And that the help of others can great ly contribute to this.